To all of the people out there who have been disappointed with vegan white cake recipes, this cake is for you. It's light, it's fluffy, and it's tender. No bready texture, no brownish color, and ordinary ingredients too. What's my secret? Two: 1) I tested this 14 times and 2) A new way of thinking about vegan cake, which I'm introducing you to today.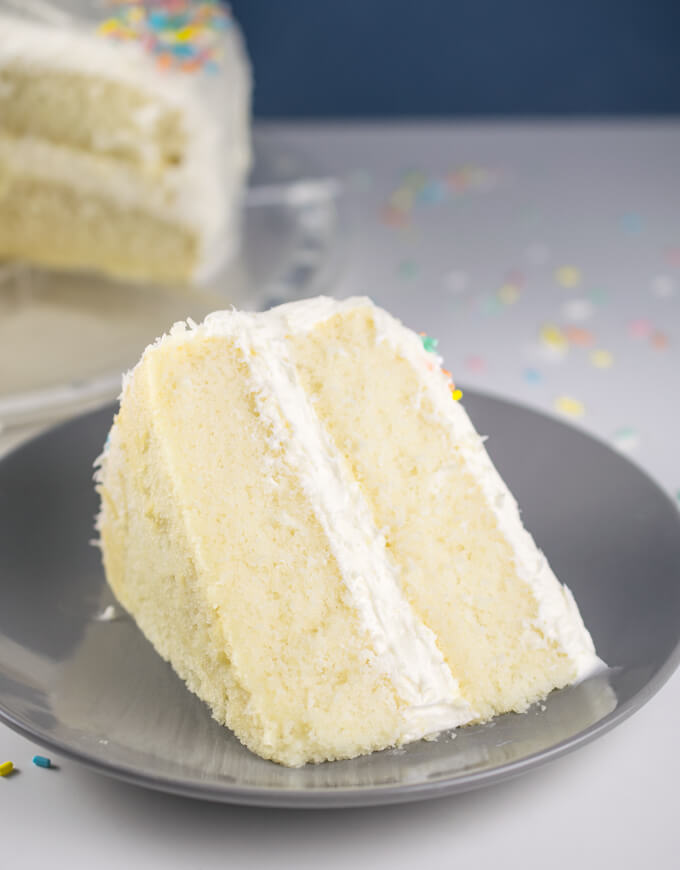 There are a few things about this vegan white cake I will discuss in more depth:
The mixing method
The flavor
The ingredients
The measuring method
Variations and troubleshooting
This post is a long one. If you're not interested in any of that stuff and willing to simply follow my recipe then go ahead and scroll down, or click/tap the "Jump to Recipe" button up at the top above the post. The best vegan vanilla cake around is in your future and you don't have to read my rambling to get to it!
A new way of mixing vegan cakes: reverse creaming
For many of us, when we learn to make baked goods like cakes, we come to expect a certain sequence of events. Cream together the fats and sugars (and eggs, back in the day), then add the liquid. Mix together the dry ingredients, and then combine the whole thing and bake it.
In my many vegan cake trials I learned that without egg for moisture and tenderness, vegan cakes made the "traditional" way reliably had a dense, bready or gummy texture. In a white cake in particular, there's no strong flavor like chocolate for a bad texture to hide behind.
I started doing my research and most of the internet told me I was over-mixing, but because of the inferior emulsion formed without butter or eggs, it was difficult to mix any less, otherwise the cake baked unevenly. (See my parade of cake fail Instagram stories for evidence of this).
Finally, I came across something that I'm now surprised isn't more widespread. It's called the reverse creaming method (and seems to also be known as the paste method). Known for resulting in uber-tender cakes, this method is favored by many of the would-be scientists doing official baking experiments and sharing their results.
How does this method work? It's surprisingly simple and easy. You start by sifting together your dry ingredients and sugar. Then, you add your fat directly to the dry ingredients, and mix well. Only at that point do you add any type of liquid. This way, the fat molecules coat the flour and prevent the flour from coming in direct contact with liquid, which in turn, prevents gluten from forming. That pesky gluten is exactly what made your other vegan cakes so dense and bready!
My research didn't end there. There was very little evidence of reverse creaming being used with predominantly oil-based cakes (of which my vegan white cake is one), and even less of this method being used without a mixer. I actually do own a mixer, but I don't want to tell you to shell out for a new kitchen appliance to make my cake recipe, so I was pretty determined to make this recipe work with a spatula and a fork.
I had a little bit of trouble with the oil mixing in too quickly/unevenly with my dry ingredients, but as it turns out, cutting the oil with just a little bit of shortening gave me enough fat "real estate" to mix everything perfectly. The shortening also improves the mouthfeel of the baked cake, and makes it easier to slice, so it's a win-win.
After that step, you can pretty much mix the crap out of your vegan cake batter so the batter will bake up nice and evenly. Batter made with this method will seem to be very liquidy and drippy compared to what you would expect. You'll be pouring it into your cake pans. That's the correct consistency, so don't be alarmed!
The flavor: vegan white cake vs. vegan vanilla cake
I'm a vanilla lover. That's why I've got all kinds of vanilla-forward recipes on the site here like my vanilla almond milk pudding, raspberry vanilla bean vegan scones, and vegan sugar cookies.
Bakery-style cakes have a very particular flavor, though. While this recipe can easily be a vanilla cake with some quick tweaks, as written it's a vegan white cake and that means the vanilla isn't too strong. I also wanted to preserve the cake's color and keep the appearance as snow-white as possible, so instead of vanilla extract I used clear imitation vanilla flavor.
To further round out the flavor and make this lovely vegan cake taste like the dairy-based cakes of childhoods past, I also use imitation butter flavor in the batter. Now, I know at this point some folks may be thinking that this cake doesn't sound very natural. To those people, I would point out that my goal wasn't to make a healthy vegan cake, my goal was to make a delicious one that doesn't taste funny.
Cake flour is made from a different type of wheat berry than regular all-purpose flour, and this also contributes to the familiar bakery, birthday cake esque flavor. And finally, in keeping with the theme, I frost my cake with some very basic, accidentally-vegan white frosting from the store. I don't care for homemade icing made from vegan butter, as I find that most vegan butter products have a strong aftertaste that overpowers the cake.
Ingredients needed for vegan white cake
To make this cake you'll need a little bit of everything. Where relevant, inside the recipe below I have linked to the specific products I used.
Cake flour: It's important to use this instead of all-purpose flour for the most tender vegan cake. Cake flour has a protein (gluten) percentage of 7 to 8.5%, and it is bleached. The lower protein content is necessary for a tender cake that isn't tough. The bleaching helps make your cake whiter. Regular all-purpose flour has a protein content of 10 to 12%. If you use it, your cake will not rise as much, and it will feel greasier and heavier.
Vegetable oil and vegetable shortening: Lighter colored oils like soybean oil or canola oil will give you the whitest cake, but you could also use avocado or grapeseed oil if desired. Please use shortening, not coconut oil. Coconut oil is not as creamy and will make your cake more greasy and heavy.
Plain sugar: I endorse the use of regular, plain white sugar. I often bake with "crunchy" organic unbleached cane sugar but not only will it result in a darker color, the granules are larger and they will cause issues with the cake baking up correctly. Many common brands of white sugar are vegan nowadays. It's a good time to be alive!
Potato starch: Another weapon in my arsenal for a fluffy cake. Without eggs, the vegan cake doesn't get quite fluffy enough with flour alone. You can try substituting arrowroot starch or tapioca starch if needed, although potato is best. I don't recommend cornstarch; it doesn't have as fluffy of a result.
Soy milk: Soy milk has the highest protein content and will provide the best moisture and lift to your vegan white cake, so it's my only tested and recommended milk for this. However, I'm eager to hear your results if you try something else like almond milk, cashew milk or oat milk.
Aquafaba: To complete the trifecta of fluff-inducing ingredients, a little bit of whipped up aquafaba (the cooking liquid from beans; you can drain it from a can of white beans for the lightest color) is folded into the batter just before baking.
Flavoring: See above for why I use imitation vanilla and imitation butter. Make sure your imitation butter flavor is vegan. I use Wilton brand, which can be ordered online. We buy it in person at Michaels.
Measure this way for the best vegan cake
Normally, with my baking recipes I include both weight and volumetric measurements. However, with this vegan white cake I have not even included volume measurements at all. It is crucially important to measure the ingredients by weight for a consistent, successful result. I use a basic, cheap baking scale. It has been well worth the $10.
Why is it so important to bake by weight, especially when doing vegan baking? So much of the success of this cake batter comes down to the precise quantities of leavening, flour and starch. Measuring dry ingredients by volume is not exact. The actual amount measured can depend heavily on the amount the flour has settled; the scooping method used; or even the ambient humidity. This vegan white cake is incredibly delicate and will easily be thrown off by a bad flour measurement.
Vegan cake variations and troubleshooting
Want to make this cake lemon flavored? You can do that too, simply swap the imitation butter flavor with lemon extract, and add lemon juice instead of vinegar. This white vegan sponge cake doesn't convert easily to chocolate, but I'm working on that recipe too so stay tuned.
I've been fiddling around with making a gluten-free version of this recipe and I came pretty close by substituting the cake flour with a blend of rice flour and cornstarch. Then, I added sorghum flour to the mix to reduce the "ricey" flavor and it was an utter disaster. So, experimentation is ongoing, but I can tell you that AP gluten-free flour is not a good idea, neither is sorghum.
This recipe makes two 9-inch layers. It is easily halved (I've tested and verified this) to make a single layer, so it ought to work well at 1.5x to make a three-layer cake if you'd like.
I haven't gotten a clue how to make this cake at high altitude. I'm close to sea level here in Baltimore. If anyone modifies the recipe to work at altitude, do let us know in the comments!
Finally, it's natural to wonder about making cupcakes from this cake recipe. I haven't tried it, but one of the advantages of this vegan cake is that it rises somewhat flatly, so I suspect it might not result in nicely domed cupcakes, but I'd definitely be interested to hear about it if anyone gives that a try.
Vegan white cake troubleshooting
Despite my detailed instructions, things can (and will go wrong). Here are a few possible reasons for this particular cake. Some of them would not apply if you are making a cake with traditional (not reverse) creaming, as over-mixing can be an issue in that case.
Why is my vegan cake crumbly? This is likely because it was cold when sliced or because the batter was not mixed fully after adding the liquids.
Why did my cake sink after baking? It's normal for the cake to sink a little bit, but if it collapses in the middle, possible contributors are a very humid kitchen, under-baking the cake, hot spots or temperature inconsistencies in your oven (check it using a thermometer), or under-mixing the batter.
Why is there a gummy layer at the bottom of my vegan cake? This can be caused by using cold ingredients (instead of room temperature) to mix the cake, under-mixing the batter, the aquafaba being liquidy rather than foamy, or not whisking in the aquafaba fully.
Why does my cake look lopsided? Believe it or not, many people's ovens are not level and they don't realize it. If you're making things like cookies you might not notice the difference, but if you're making a cake you surely will. We added some screws below one side of our oven to straighten it out. You can test this by filling a measuring beaker with a cup of water, then setting it on your (cold) oven rack and seeing if the water remains level on all sides.
So, there you have it… my vegan cake manifesto. If you give this recipe a try, please do let me know how it goes, either here in the comments, or by tagging me on Instagram (@yupitsvegan). Your feedback and support help me keep this site going!
NEW in March 2019 – I've now included a video to show you the mixing method for this vegan cake in even more detail! Check it out below and enjoy.
Bakery-Style Vegan White Cake
The vegan cake of your dreams, made fluffy and tender with some surprisingly simple tricks. Not-too-sweet and great for layering. Makes two 9-inch vegan cake layers.

Ingredients
Instructions
Before starting, make sure all of your ingredients for this vegan white cake are at room temperature, otherwise your cake will bake up weird. Warm the soy milk and aquafaba in the microwave for a few seconds if you need to.

Preheat the oven to 350 degrees Fahrenheit (make sure you are not using convection mode, this will cause the cake to bake unevenly). Line two 9-inch cake pans with circles of parchment paper on the bottom. Do not flour or grease the pans.

In a small bowl, whisk together the aquafaba and cream of tartar vigorously until the aquafaba is fluffy and foamy, and set aside. No need to whip it to stiff peaks, just get it foamy.

In another small bowl, stir together the soy milk, 2 tsp vinegar, vanilla and butter flavors, and set aside. The soy milk will curdle a little bit; this is normal.

Sift all of the dry ingredients (including the sugar) into a mixing bowl and stir well, sifting a second time if the mixture still appears lumpy. Don't skip this step - sifting is important!

Add the vegetable oil and shortening into the bowl. Use a strong fork to break up the shortening and then mix everything together well. The mixture will first turn crumbly like a shortbread dough and then as you continue to mix, will start to resemble wet sand (see photos in blog post). This will take some elbow grease. Make sure to scrape around the bottom of your mixing bowl to get any flour pockets hiding out there. Don't continue until the mixture is fully smooth.

Add 1/3 of the wet ingredients to the bowl and mix until combined. Add another 2/3 and repeat. Finally, add the remaining 1/3 and mix until the batter is very smooth and runny, which will take a minute or two (see photos in blog post).

Give the aquafaba mixture another whisk to get it foamy again, as it may have deflated a bit while you were mixing the rest of the cake. If it's still partially liquidy, take only the foamy part and not the part that is liquid. Then, whisk it into the cake batter until mixed in evenly (if you only fold it in, you might get streaks or a gummy layer - mix well if needed). Divide the cake batter between your two cake pans.

Bake the vegan white cake layers for approximately 24-28 minutes, or until a toothpick inserted into the center comes out clean and dry. Be sure not to open the oven until it has been at least 15 minutes (preferably longer), otherwise you will risk your cakes deflating when you open the oven door.

Let the cakes cool in their pans on top of a cooling rack for about 10 minutes. You can then run a sharp knife around the edges of the pans before very gently inverting the cakes to cool completely. I recommend lightly flouring or spraying your cooling rack before flipping the cakes onto it; they are very moist and have a tendency to stick. After flipping them over, gently peel off the parchment paper.

These cakes can be layered and frosted once completely cooled (and the layers can be gently evened out if needed, although they tend to bake pretty flat). Take care in handling them; they are rather delicate. Leftover cake can be stored covered in the fridge for a couple of days. If your layer cake is fully frosted it can also be stored covered at room temperature. If stored in the fridge, it's recommended to bring it to room temperature before slicing, to reduce crumbliness.
Notes
This recipe has many notes - please see my blog post for everything else you might want to know!
AQUAFABA - This is the cooking liquid from beans; it has properties similar to egg whites. For this recipe, I recommend draining the liquid from a can of low-sodium or unsalted white beans (cannellini, navy, etc.) - it will have the lightest color.
STAND MIXER - You can use a stand mixer for this. Use low speed throughout, increasing to medium-low speed at the liquid-adding step if needed to mix fully.
NUTRITION - Nutrition facts do not include any sort of frosting or icing.
Nutrition
Serving:
1
slice (1/16 recipe)
|
Calories:
277
kcal
|
Carbohydrates:
36
g
|
Protein:
3
g
|
Fat:
13
g
|
Saturated Fat:
1
g
|
Polyunsaturated Fat:
4
g
|
Monounsaturated Fat:
7
g
|
Sugar:
21
g
NOTES 2/21/2019: So many of you have already made this cake and shared your results with me! So glad everyone is loving it. It seems that differences in aquafaba consistency and some aquafaba not staying foamy is causing wet streaks in some people's cakes. Please use ONLY the foamy part of the aquafaba and be sure to mix it in thoroughly with your whisk. Secondly, several people have tested out using all-purpose flour instead of cake flour and it does NOT seem to work well.
My sources consulted are too many to name, but particular thanks go out to Isa Chandra's cupcakes, from which I adapted my initial base ingredient quantities (although the recipe has since changed dramatically, as you can see); and to Sugar Geek Show's recipe which taught me many helpful things about reverse mixing.
More vegan cakes from the blog:
THANK YOU to everyone who makes and shares this vegan white cake recipe. A significant amount of time, effort, and money went into this cake's creation. If you want to post about the recipe on social media or your own site, please link back to me and do not copy/paste the recipe directly. This way, we can both benefit from it. Thank you! -Shannon