I'm still living life without a stove or oven over here in Baltimore, so I haven't been making much progress on recipe testing. Thus, I thought this would be the perfect time for me to put together a roundup of 30 vegan one-pot recipes, to help get you in and out of the kitchen quickly so that you can enjoy your summer!
All of the one dish meals here are vegetarian, meatless, dairy-free, and plant-based. Many of them are hearty and filling, but some are a little lighter too! Most importantly, all of them are easy 🙂
These recipes range from vegan one pot pastas (my specialty!) to quinoa, to soups, to grain-free dishes. There should be a little something for everyone here, both from my own website and from some of my favorite veggie-centric fellow bloggers. Hope you enjoy!
One Pot Pastas
One Pot Vegan Fettuccine Alfredo (pictured)
One Pot Summer Vegetable Pasta in White Wine Lemon Sauce
One Pot Spaghetti Alla Puttanesca
One Pot Southwest Pasta – The Wholesome Dish
Vegan Vodka Sauce Pasta – Vegan Richa
One Pot Taco Spaghetti with Spicy Tempeh
Other Noodles
One Pot Spicy Garlic Almond Butter Noodles (pictured)
One Pot Peanut Sauce Noodles – Vegan Richa
One Pot Sesame Noodles – Oh My Veggies
Korean Glass Noodles (Japchae) – Kimchimari
One Pot Veggie Soba Noodle Soup – The Glowing Fridge
Quinoa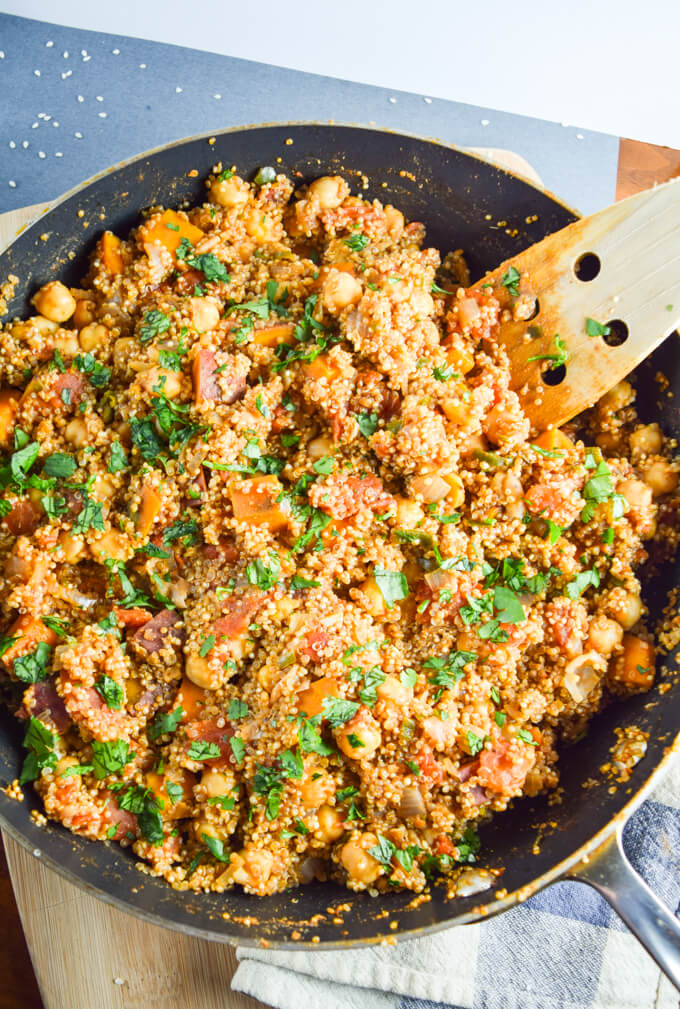 One Pot Tandoori Quinoa (pictured)
One Pot Moroccan Quinoa with Red Lentils
One Pan Mexican Quinoa with Cashew Cream – Crazy Vegan Kitchen
Curried Quinoa with Butternut Squash and Chickpeas – Oh My Veggies
Quinoa Dirty Rice – The Vegan 8
Other Grains
Summer Vegetable Paella – Eats Well with Others
One Pot Ratatouille Rice (pictured)
Creamy Tomato Barley Risotto – Oh She Glows
Mexican Ranchero Amaranth Stew – Making Thyme for Health
One Pot Southwestern Risotto with Millet – Foodscape
Grain-Free
Pressure Cooker Black-Eyed Pea and Collard Green Chili
Mexican Sweet Potato Bake – Making Thyme for Health
Southwest Roasted Potato Salad (pictured) – Aberdeen's Kitchen
Chickpea Sweet Potato Spinach Curry – Vegan Richa
Aloo Baingan (Spiced Tomatoes and Eggplant) – Vegan Richa
Soups and Stews
Chickpea Turmeric Stew (pictured)
Sweet Potato Almond Soup – Veggie Inspired Journey
Lentil Vegetable Soup – Healthy Slow Cooking