Judging by the current bestselling cookbook lists and expert predictions and general social media chatter, more people than ever are going to be trying out a month (or more!) of vegan eating in 2018. Pledging to do this for the month of January has come to be known as Veganuary. I'm here to help with this curated collection of vegan Veganuary recipes that are perfect for people new to plant-based food and cooking.
These recipes call for ingredients you can find at a regular grocery store, and don't require odd vegan cooking methods or store-bought vegan substitutes that tend to be hit-and-miss with mixed vegan and non-vegan crowds.
Instead, these are just 15 recipes for REGULAR food, hearty and satisfying for the winter months, naturally vegan, and delicious! Many of them are high in protein, fiber, and good-for-you nutrients. Please enjoy!
I've been vegan for the better part of 10 years and I am happy to help you this month in any way that I can. Please reach out to me anytime in the comments section of my posts, or via email at yupitsvegan @ gmail.com . I'm always eager to brainstorm recipe substitution ideas, troubleshoot recipe issues, recommend vegan-friendly restaurants and more.
P.S.: To see even more of my website's reader favorites over the years, browse my popular recipes gallery. Or check out my entire visual recipe index!
To get my newest vegan recipes in your inbox as I publish them, sign up for my free email newsletter at the top of this page!
Wishing you a successful Veganuary!
15 Hearty, Healthy, and Non-Weird Veganuary Recipes
This might be my very favorite recipe to serve to people who are skeptical about vegan food. It's so warm, flavorful and satisfying. I just gently spice this soup with cumin and coriander to let the natural veggie flavors shine. It's made with predominantly pantry ingredients; I'm almost always ready to make it at a moment's notice.
Bonus: it's packed with anti-inflammatory black pepper and turmeric, fiber and protein from the lentils and whole-grain barley, and a little dose of iron from the spinach. Get the recipe.
It's a remake of a beloved super-not-vegan classic AND it's made in the slower cooker? What could be better? I turned to coconut milk to make this curry just as creamy without the cream. It's been getting rave reviews from vegans and non-vegans alike. Try it out this Veganuary!
Note: this recipe calls for 3 tablespoons of nutritional yeast. The recipe notes suggest a substitution if you aren't able to find "nootch" easily. However, LOTS of vegan recipes across the internet and beyond will call for nutritional yeast, so I heartily believe it's worth trying to track some down.
Nutritional yeast is naturally packed with protein and often fortified with useful iron and B vitamins. It adds a punch of umami to recipes where it's used. I'm not sure that I agree, but some vegans would describe its flavor as "cheesy". Get the recipe.
Fueling my love of creamy, salty potatoes and also my love of juicy lentil stew, this lentil shepherd's pie is actually quite easy to prepare and doesn't require vegan butter or anything funny like that.
The bottom layer is lentils braised with carrot, shallot, a little bit of apple (my secret!), tomato paste, herbs and spices; and the top layer is a garlic chive Yukon gold potato mash. Yum to the yum. Get the recipe.
Apparently people like Panda Express orange chicken a lot. I leveled up to Vegan Level 8 before I ever had the chance to try it, but I do have an awesome crispy orange tofu recipe. Tofu cubes are baked until crispy on the outside and chewy inside, and then tossed in a homemade orange glaze.
Serve with white rice and veggies for a Veganuary takeout-esque experience at home. Note: to give my tofu a more intense orange color, rather than the traditional Yellow 4 Lake, I just added a pinch of ground turmeric to the sauce. Get the recipe.
Great for breakfast or lunch meal prep, these burrito bowls take a batch of my crispy blackened chickpeas and pair them with rice, salsa, avocado sauce, and some fresh cabbage for a lightened up burrito-inspired dish. There are loads of recipes on the internet for crispy chickpeas of various flavors and cooking methods; these bowls would go well with most of them if you want to change it up. Get the recipe.
Surely I must not be the only one who's spent an embarrassing amount of money on Amy's frozen burritos, with their samosa wrap being, of course, my very favorite. Finally I wised up and created my own homemade version and I gotta say, not only is it WAY cheaper but it's also even more delicious tasting.
The filling is made of samosa-spiced potatoes, tomatoes and peppers, and scrambled tofu for added protein. If you want to add vegan cheese too, I'll look the other way. If you're both doing Veganuary and also trying not to make so many grocery store impulse buys, these wraps are for you! Get the recipe.
My spinach pesto pasta is one of the most popular recipes on this site, but in the spirit of New Year's Resolutions, I thought I'd share my higher-protein and lower-fat edamame version here in the roundup. Nobody will know that there's blended-up edamame in this.
How do I know that? I actually tried to trick someone (an omnivore no less), and succeeded. Fresh basil, lemon juice, olive oil, shallots and garlic round out the ingredients list of this surprisingly healthy dish! Get the recipe.
Fried rice is one of my favorite vessels for vegetables of all stripes, and this Thai-inspired stir fry sauce is one of my favorites within that category. Fresh pineapple, cashews, veggies galore, and a delectable sweet and savory sauce make this dish a winner. Don't listen to the haters who will tell you these spices don't belong in Thai cuisine. I got this sauce recipe from a Thai restaurant! (And reduced the oil by like 95%).
To amp up the protein in this recipe, I suggest added baked cubed tofu; cooked shelled edamame; cooked green peas; or cooked chickpeas. All of these can be added at the same time as the sauce. Get the recipe.
This was probably the recipe on site that readers cooked the most in 2017, with a steady stream of rave reviews coming in on Instagram and the blog here. Find out what all of the hype is about and make this dish of battered baked cauliflower glazed in a supremely delicious sticky ginger sesame sauce. Get the recipe.
Anytime I post a recipe that's full of spinach people seem to go crazy for it. This time I put an Indian-inspired spin on things, creating a spinach-packed lentil curry. This light and protein-packed curry is much lower in fat than the usual coconut milk-based fare, but luckily I made up for that by pairing it with fluffy coconut rice. Get the recipe.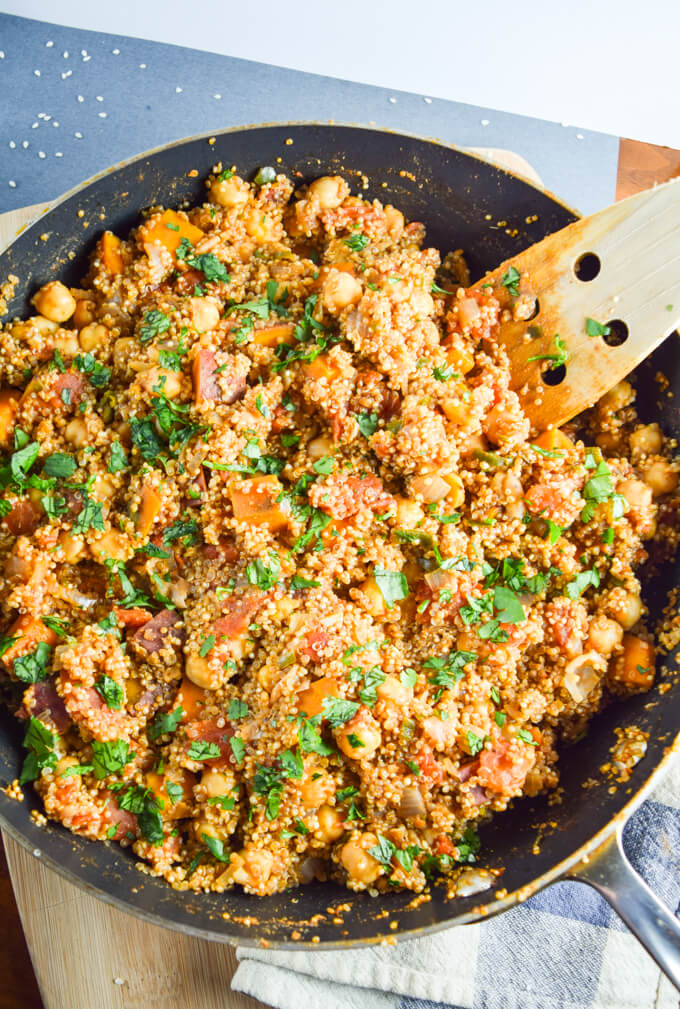 Another favorite that readers make again and again. (Includes a recipe video!) Chickpeas, sweet potatoes, quinoa, and Indian tandoor-inspired spices are all simmered together in the same pot for an easy and flavorful one pot meal. Get the recipe.
I couldn't make this Veganuary list without including my all-time most famous recipe, creamy one pot garlic fettuccine. Some say this dish resembles a vegan alfredo; I'm not so sure about that but I do love it with all my heart. Just a handful of ingredients and everything, including the pasta, cooks together in the same dish.
You might be skeptical about the one pot cooking method. True, it's possible to use it for evil rather than for good. But in this dish, the starches from the pasta naturally thicken the sauce, meaning no fussy roux or weird thickeners are needed in this dairy-free dish. You might need to try it before you believe me but the pasta cooks to a perfect al dente with this method. Get the recipe.
But what about dessert?
I have a ton of dessert recipes on my site. Here are a few recent favorites made with everyday ingredients:
Rating high on the axes of fanciness, chocolate levels, and flavor, this marbled banana bread is sure to be a new classic. Plus it's made with 100% whole wheat flour, naturally-sweetened, and low-fat! Get the recipe.
These are truly my ultimate vegan cookie. I made them for just about every bake sale and event this winter and they make people weak in the knees. I use this phrase extremely judiciously so believe me when I say: These snickerdoodles don't taste vegan at all. Get the recipe.
These delightful little PB&J cups are made with only three ingredients! Yes, three! A creamy peanut butter and coconut oil shell gives way to a juicy bite of jelly or jam in the center. They can also be made with almond butter for a peanut-free option (which also happens to be paleo, however relevant that might be).
Someone once left me a comment that they "can feel these sticking to the roof of [their] mouth just from looking at the pictures". Girl, no. The coconut oil added to the peanut butter gives the outer shell a texture that's a lot like chocolate. Melt-in-your mouth in the best way, and definitely not sticky. Get the recipe.