Way back in August when I first came up with this Legume Appreciation Month theme, I knew that I had to pull off a legume dessert if I wanted this series to be worth its snuff. And I like to think that these vegan chocolate fudge pop tarts do not disappoint! If we're gauging that based on whether or not I ate all of the pop tarts in 24 hours, then it's definitely true.
As excited as I am about these pop tarts (and to reveal to you how in the world these have legumes in them), I'm even more excited to share that this post is part of a SURPRISE virtual baby shower for my sweet fellow blogger, Melissa. Melissa is expecting a baby girl in just a few weeks now, so I hope you'll join me in sending her your best wishes on heading into the journey of parenthood. =]
It's always fun thinking back on your own (or your kids') early years when someone you know is expecting. One of my coworkers is also expecting a little girl right now, and my cousin's daughter just turned 10 months old (she is an absolute doll). So, this whole topic has definitely been on the brain. That's one reason I decided to make pop tarts for this virtual baby shower – I use to eat MANY of them when I was a little girl. Yeah, kinda bad of me. I remember coming home from elementary school and waiting until my mom wasn't looking, and getting the box of Pop Tarts out of the pantry… and completely spoiling my dinner :).
Unfortunately (or maybe, fortunately?) most Pop Tarts have ingredients that I don't eat these days. Some of the non-frosted flavors actually are vegan, but frankly, homemade pop tarts are sooooo much better. This crust (same one I used in the bananas foster pop tarts) is quite close to a pie crust. Except I much prefer making it, because you don't have to keep the ingredients cold, or really do anything more than mix wet and dry. You've gotta try it! The only thing is that it wouldn't work well for an actual pie. The dough is not pliable, so you pretty much have to use it for things like this where you just overlay flat pieces of it on each other. I learned that the hard way during a galette experiment gone wrong. I adapted this crust from a recipe by Chocolate Covered Katie (that link also has step-by-step pictures, for anyone interested).
Alright, you made it this far, it's time to talk about the beans =]. I guess it probably wasn't too hard to guess, but there are black beans in this chocolate fudge filling! I adapted this from a black bean fudge recipe by Petite Kitchen. The main change I made was to make the recipe vegan, but I also added a bit of coconut oil to help it melt better inside the pop tart. Be aware that there's a *slight* beany taste. For a non-bean, and easier filling (this fudge is still quite easy, though), you can just use vegan chocolate squares. Combine that fudgy chocolate filling with tangy raspberry glaze, and you are just in chocolate raspberry heaven. Don't like fruit and chocolate? Make a classic or chocolate glaze instead!
I've rambled too much, so let's get to the recipe. And below that, you will find a little preview of the other bloggers' vegan recipes for this baby shower. I'm so grateful to all of them for taking the time to participate and (hopefully!) make this a lovely surprise for Melissa. And I'm especially thankful to my friend Cheryl, for putting this whole thing together! You guys rock.
Vegan Chocolate Fudge Pop Tarts with Raspberry Glaze
These vegan chocolate fudge pop tarts are insanely decadent and delicious, especially when paired with a sweet and tangy raspberry glaze.
Ingredients
For the black bean fudge (makes quite a bit extra):
1 and 1/2

cups

cooked black beans

(equals 1 can) thoroughly rinsed and drained

1/2

cup

brown rice syrup

(plus more to taste)

5

tbsp

cocoa powder

6

tbsp

coconut butter

(substitute cocoa butter, or 4 tbsp coconut oil)

1

tsp

coconut oil

a pinch of salt
For the raspberry glaze (makes extra):
3-4

tbsp

raspberries

1

tsp

lemon juice

1/2

cup

powdered sugar

½

tbsp

cornstarch
Instructions
For the black bean fudge filling:
Prepare a loaf pan, or other small dish lined with parchment paper.

Combine all ingredients in a blender or food processor until completely smooth. You may need to blend for a few minutes to fully puree the black beans. Add more sweetener to taste, if desired.

Pour the mixture into the prepared dish and place in the refrigerator to set. In a hurry, you can also put it in the freezer.
For the pop tart dough:
Combine the dry ingredients in a small bowl. In a separate bowl, combine the wet ingredients, whisking to break up the coconut oil if necessary.

Pour the wet ingredients into the dry ingredients and mix until a dough is formed. It will be a little crumbly, but able to be pressed together if you pinch it.

Put the dough inside a gallon-sized plastic bag, or two smaller bags if needed. Use a rolling pin or other cylindrical object (I used an empty wine bottle ;)) to roll out the dough into a thin, even layer.

Place the dough in the refrigerator for at least 30 minutes, and preferably at least 60.
For the raspberry glaze:
Mash the raspberries through a mesh sieve to get the juices out and leave the seeds behind. Add the lemon juice. Whisk together the powdered sugar and cornstarch, and then add that to the raspberry mixture.

To test the consistency of the glaze (if it's important to you that it firm up completely), drizzle a bit of it onto a scrap of parchment paper and stick it in the fridge.
To assemble the vegan chocolate fudge pop tarts:
Preheat the oven to 350 degrees Fahrenheit, and prepare a baking sheet lined with parchment paper or a Silpat-type liner.

Use scissors or a sharp knife to cut the plastic bag off of the dough. Cut the dough into whatever size rectangles you prefer (I made 6 rectangles, resulting in 3 large pop tarts).

Add a thick slice of the black bean fudge to a rectangle, making sure to leave room around the edges. Place the other rectangle of dough on top, and use a fork to crimp it around the sides. Transfer to the baking sheet and repeat with the rest of the dough.

Bake the pop tarts for 13-15 minutes, or until the edges are browned. This will vary depending on what size you choose to make them, and what kind of filling you use.

Transfer the baked pop tarts to a cooling rack. After 5 minutes, you can drizzle the glaze onto them (or just dunk them!). Make sure to have a plate or something underneath to catch the drips.

Let the glaze set for a few minutes, and then enjoy! These are best eaten the same day, but can be stored for 24 hours, loosely covered, at room temperature.
Nutrition
Serving:
1
pop tart
|
Calories:
226
kcal
|
Carbohydrates:
32
g
|
Protein:
4
g
|
Fat:
10
g
|
Saturated Fat:
7
g
|
Polyunsaturated Fat:
1
g
|
Monounsaturated Fat:
2
g
|
Sodium:
30
mg
|
Potassium:
164
mg
|
Fiber:
3
g
|
Sugar:
13
g
|
Vitamin C:
9.9
mg
|
Calcium:
20
mg
|
Iron:
0.9
mg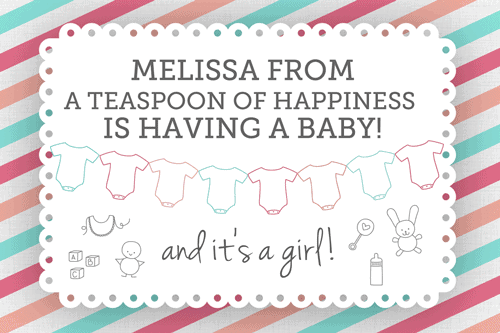 Baked Apple Cider Donuts with Pomegranate Glaze (Vegan) from 40 Aprons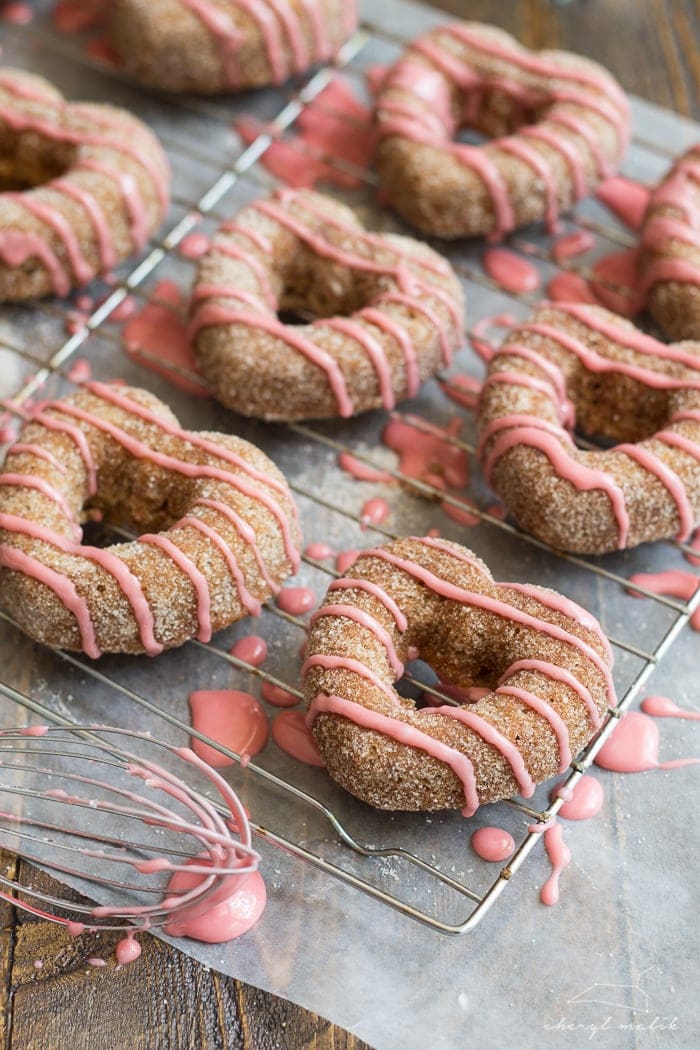 Grapefruit Mint Spritzer (Non-Alcoholic) from Tattooed Martha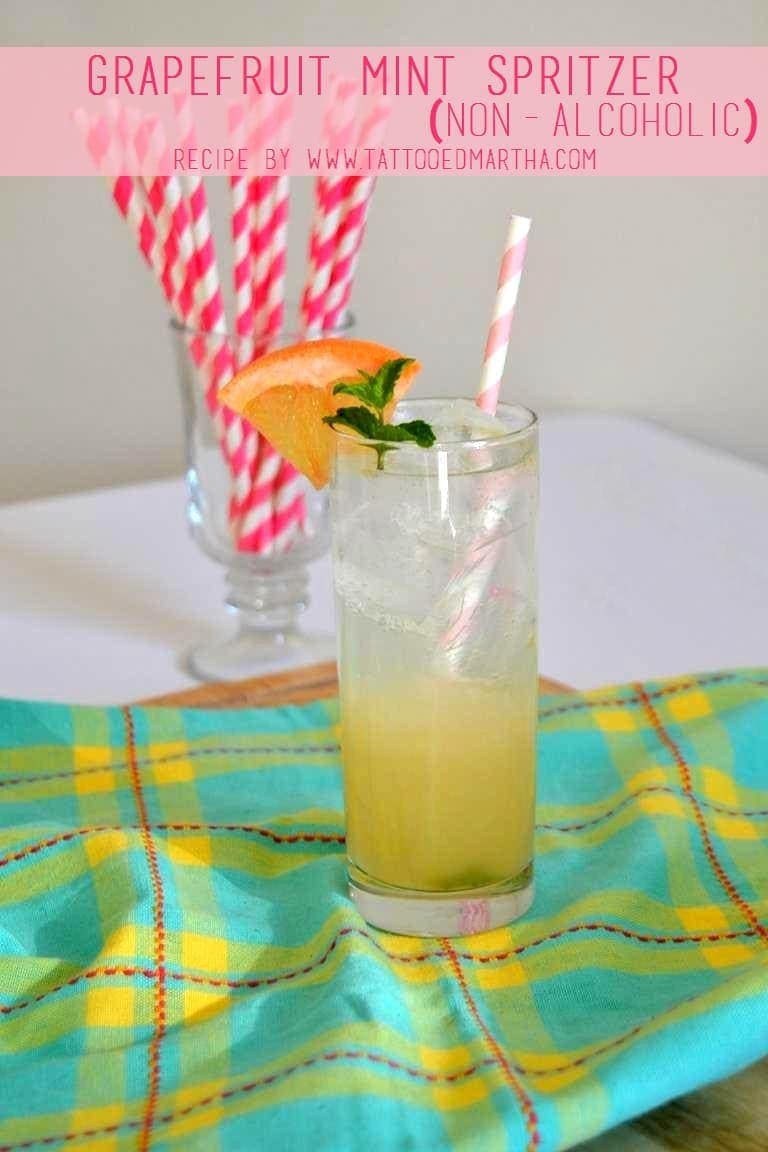 Chocolate Raspberry Pop Tarts (Vegan) from Yup, It's Vegan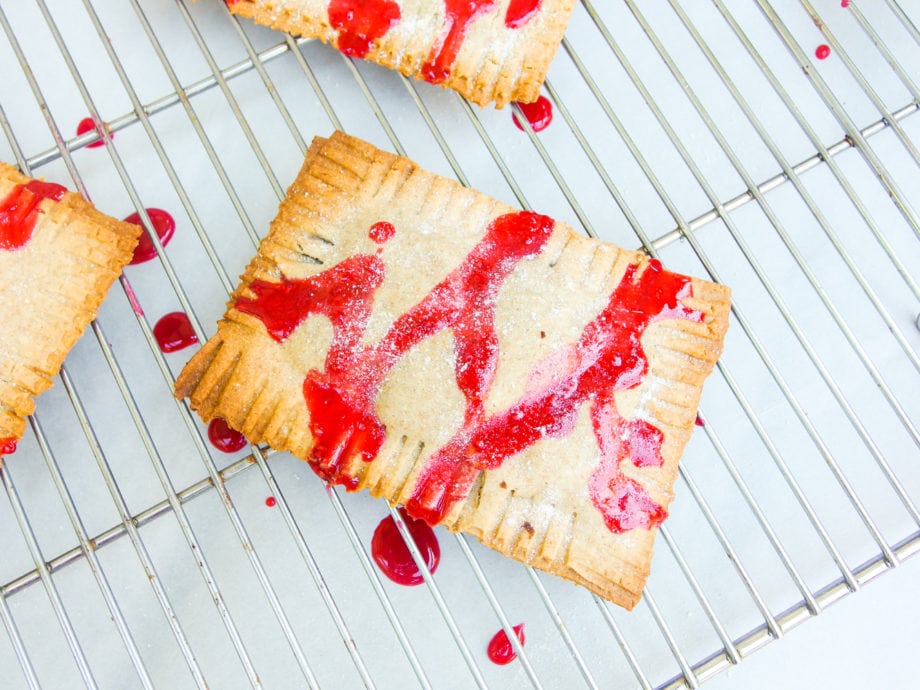 Pumpkin Chocolate Chip Muffins (Vegan) from Jessica in the Kitchen