You've never had a vegetarian split pea soup like this: creamy, light, and bright with the flavor of lemon, this Lebanese green split pea soup is adapted from Salma Hage's beautiful Middle Eastern Vegetarian Cookbook.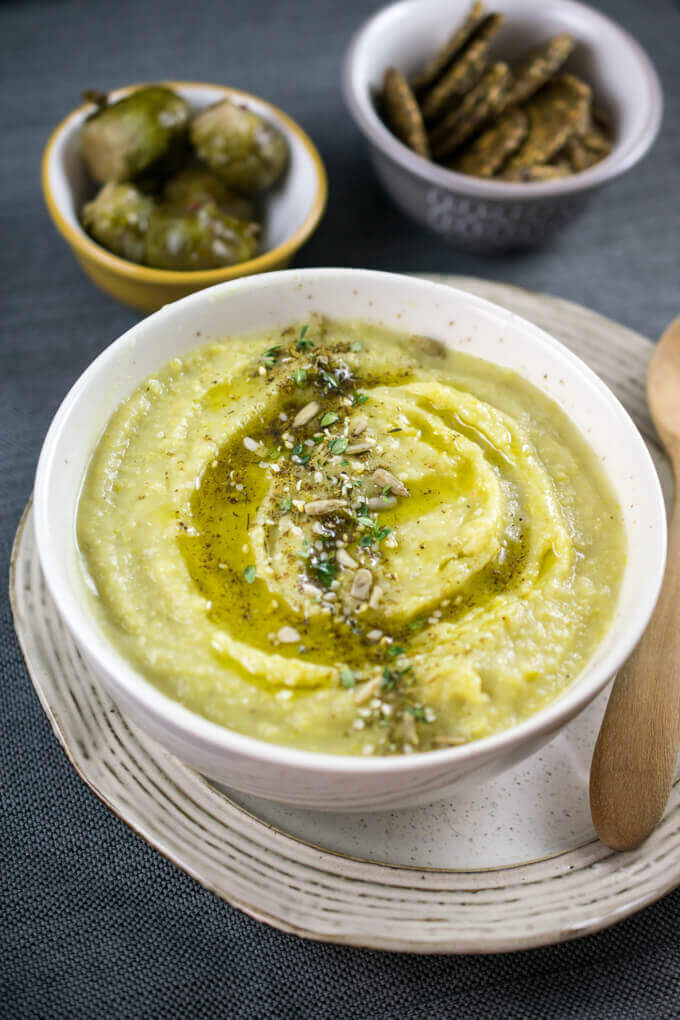 Guilty as charged, I received this book for review last year and though I've flipped through it dozens of times (it's a great coffee table tome) I've just finally got to cooking. A lot of the recipes read as rather simple but the flavors have been absolutely luxurious and I'm very excited to try more.
Almost all of the recipes in the book are already vegan or have a listed vegan option. This cookbook is a great investment or gift because it's gorgeous, with a high-quality hardcover binding and built-in bookmark, but full of approachable and (!) frugal recipes. I splurged on a bottle of pre-made za'atar blend for this humble vegan green split pea soup; but it can be reused for countless other recipes in the book. Everything else included in the recipe was either already in my pantry or only cost a dollar or two.
When I first read through this Lebanese green split pea soup recipe it felt insane. Par-boiling the potatoes and split peas in separate pots only to combine them and cook them more, and then puree the whole thing? Who came up with this method? I thought to myself that next time I made this Lebanese split pea soup, I'd probably, at least, do the par-boiling together in one pan.
Alas, upon a reread I recalled the reason why potatoes are usually added to cold water before raising it to a boil (so that the centers can cook thoroughly before the outsides turn to mush). Plus, potatoes are better boiled in salted water whereas peas categorically should not be boiled in salted water because their skins will seize up and prevent the peas from getting tender.
Furthermore, as my split peas boiled away and I used a spoon to skim the foamy bean skin that was forming on the surface, it started to dawn on me that the potatoes would have been absorbing all of that bean foam if they were cooking in the same pan. Mmmmm, bean foam.
So yes, to prepare this Lebanese green split pea soup as described in the Middle Eastern Vegetarian Cookbook, a little bit of fuss is required. However, I'm now totally convinced that the fuss is worthwhile. Beyond that, the soup is SO good that we had only had a few bites before we started talking about making it again that weekend and saving some portions in the freezer for emergencies. This makes a huge, satisfying batch of split pea deliciousness.
I've never had a green split pea soup SO creamy and ethereally light as this one. And given that it contains a hefty amount of potatoes (I increased the quantity from the book ever so slightly (and also reduced the oil)), we felt comfortable enjoying it as a complete albeit light meal, topped with a little bit of extra olive oil. Next time I'll try blending in some spinach too for more vegetable power.
Because this soup is so packed with flavor from spices, garlic, and veggies, it's my go-to split pea soup recipe. Rather than try to emulate "ham" flavor with liquid smoke and smoked paprika – and I harbor no ill will toward that approach – this vegetarian split pea stew is flavorful in its own wonderful way.
If you try this amazing vegan split pea soup, let me know in the comments or tag me with @yupitsvegan on Instagram!
Lebanese Green Split Pea Soup
Thick, creamy and luscious, this Lebanese green split pea soup is a unique vegetarian and vegan spin on split pea soup, made with traditional Middle Eastern seasonings. Top with za'atar (a blend of dried herbs, sesame, and sumac) for a really special flavor. (Recipe adapted from the Middle Eastern Vegetarian Cookbook by Salma Hage).
Ingredients
1

tbsp

olive oil

1 and 1/4

cups

green split peas

3

medium-sized gold potatoes

peeled

1

yellow or white onion

diced

6

cloves

garlic

minced

2

tsp

ground cumin

1/2

tsp

ground black pepper

1

tsp

cayenne pepper

(reduce if sensitive to spice)

3

cups

low-sodium vegetable broth

3

stalks

celery

diced

1/4

cup

chopped flat-leaf parsley

(optional)

juice of 1 lemon

za'atar

(optional, for serving)
Instructions
Add the split peas to a large saucepan, cover with water, bring to a boil, and cook for 15 minutes. Drain and set aside, and rinse out the pot.

Meanwhile, add the peeled potatoes to another saucepan, cover with cold water, salt the water heavily, and then bring it to a boil and cook for 7 minutes. Drain and set aside. (I simply pour them into the same strainer I'm already using for my peas).

Heat the olive oil in your large saucepan. Add the onion and garlic and saute for 5 minutes, stirring frequently to prevent the garlic from burning. Add the cumin, pepper, and cayenne, and continue to cook, stirring frequently, until the onions are softened and slightly browned.

Add the potatoes, split peas, vegetable broth, and celery. Bring to a boil, then reduce to a steady simmer and add the parsley if using. Continue to simmer until the potatoes and split peas are fully cooked. Turn off the heat and use an immersion blender to puree the mixture until smooth. (Alternately, you can blend the soup in batches in a blender or food processor).

Return the soup to the heat and add the lemon juice, and salt to taste. If desired, add water to thin out the consistency. Serve hot, topped if desired with a drizzle of olive oil, and a generous sprinkling of za'atar.
Notes
POTATO TYPE: The traditional version of this dish uses new potatoes (use approximately 4 rather than the 3 Yukon golds listed). Even more traditionally, the quantity of new potatoes is doubled. Half of the potatoes, after boiling, are then coated in za'atar and roasted in a 400 degree Fahrenheit oven for 30 minutes until golden, and served as an additional garnish for the soup.
RECIPE EFFICIENCY: I've found that the most efficient way to prepare this is to measure/chop the onion, garlic, parsley, celery, and broth, whilst the potatoes and split peas are par-cooking. Done this way, the whole recipe can be on the table in under an hour.
OIL QUANTITY: The original recipe also calls for 3 tablespoons of oil.
Nutrition
Serving:
1
fourth recipe
|
Calories:
282
kcal
|
Carbohydrates:
60
g
|
Protein:
17
g
|
Fat:
4
g
|
Monounsaturated Fat:
3
g
|
Sodium:
157
mg
|
Potassium:
582
mg
|
Fiber:
17
g
|
Sugar:
5
g
|
Vitamin A:
950
IU
|
Vitamin C:
42.1
mg
|
Calcium:
50
mg
|
Iron:
4.7
mg
Disclosure: I received a complimentary copy of this cookbook for my review.