These mango curry hummus and tandoori roasted red pepper panini (sandwiches) are the mouthwatering vegan sandwiches that made me forget about plain, sad hummus and vegetables. With heartiness from chickpeas and whole grain bread, they easily satisfy.
I've been holding on to this recipe for almost a year, and decided it was about dang time I shared. You see, back at that time, I was working on writing an eBook, which I was very excited about! But sometimes life has different plans. If you had told me then that the plans for 2015 were the end of a long-term relationship; extensive growth and organizational changes at the company where I was working; my car unexpectedly (and it turned out, irreparably) breaking down in the middle of the freeway in Absolutely Nowhere, Pennsylvania (certainly a cathartic moment if I've ever had one…); and a whole bunch more things that I'll get to eventually – I would have laughed right in your face. I was just excited to have a few recipes completed for the eBook. But just as I was getting settled into a groove with that, all of that other stuff started happening.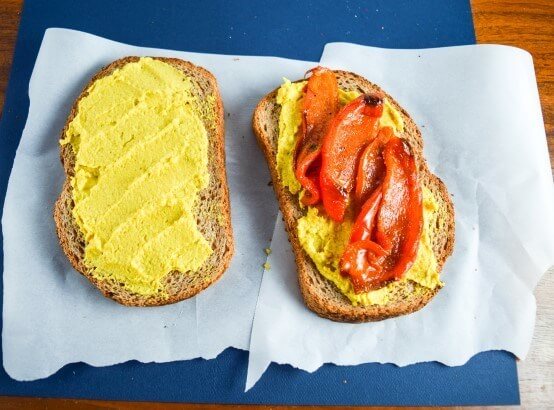 I noticed that my life and my mindset were changing a lot at the same time that my birthday was approaching, and I made a promise to myself: I'm not going to live with regret this year, and I'm going to take the chances I've wondered about taking. It started with making some big changes in my personal life; and then dipping into my savings to travel by myself to Southeast Asia. And my next milestone will be ushering in 2016 in another international-to-me location, England. I'll explain that part at some point. 🙂
I don't really know where I was going with that except to give a little bit more insight into why my blog has been relatively quiet for much of this year. All year I have given the excuse that I've been busy with work. That's certainly not a lie, but there's been a little bit more to it than that. I am grateful that people have stuck around and kept reading this year even though I made updates at a snail's pace. And while I am still hoping to put together an eBook, I have come to the realization that the eBook I originally had planned is not going to happen, so I figured now is the time to slowly start releasing those recipes from the vault. Perhaps after I post a few of them you'll be able to tell what the theme was going to be 🙂
By the way: I don't have and have never had intentions to close down the blog or stop making new posts. I immensely enjoy working on recipes and blog posts and that's definitely going to continue!
The mango curry hummus found on these panini is an early Yup, it's Vegan classic recipe. To date, it's still one of my favorite hummus recipes ever. I decided to take it to the next level by pairing it with juicy, umami roasted red peppers that were rubbed down with tandoori-inspired spices. (Tip: the savory, spicy pepper skins removed after roasting are great for saving in the freezer to use later for vegetable broth). Add crisp fresh spinach and pungent red onions on nutty whole grain bread, and you've got yourself a balanced (and colorful!) panino.
I make panini using a George Foreman grill that cost me $20 and I have owned for probably 8 years now. Some of the affordable newer models are still very highly-rated. Just be careful to read the reviews on the different models if you do decide to buy one. Certain versions of the grill (not the one I linked to, though!) are said to have fairly fragile nonstick coating. The Kitchn also has a few tips on how to make panini without a press. Note that I do recommend against the turning-a-toaster-on-its-side tip, which can be a fire hazard.
Hope you enjoy these mango curry hummus and tandoori roasted red pepper panini, and cheers to an interesting first 11 months of 2015!
Mango Curry Hummus & Tandoori Roasted Red Pepper Panini
Mouthwatering tandoori spice-rubbed roasted peppers are layered with tangy mango curry hummus, crisp fresh spinach, and red onions in these mango curry hummus and tandoori roasted red pepper panini.
Ingredients
For the tandoori roasted red peppers:
For the mango curry hummus and tandoori roasted red pepper panini:
1

batch

mango curry hummus

tandoori roasted red peppers

(see above)

8

slices

whole grain sandwich bread of choice

1/4

of a red onion

thinly sliced (see notes)

2

cups

loosely packed fresh spinach leaves

fresh cilantro

optional, to taste
Instructions
For the tandoori roasted red peppers:
Preheat the oven to 350 degrees Fahrenheit. Rub the quartered red peppers on all sides with a light coating of olive oil, and generously sprinkle the insides with the tandoori spice blend.

Roast the peppers for about 45 minutes, or until the skins are wrinkled and the peppers are very soft. Once cool enough to handle, remove the skins, sprinkling additional tandoori spice if desired.
For the mango curry hummus and tandoori roasted red pepper panini:
Preheat an indoor grill or panini press (or see recipe post for other heating options), and lightly spray with oil if desired/needed.

Generously spread mango curry hummus on two slices of bread. Arrange a handful of fresh spinach, 4 tandoori roasted red pepper quarters, a few slices of red onion, and cilantro as desired, then put the two halves together.

Grill the sandwich on both sides, pressing it down to compact the filling, until the bread is crisp and the filling is warm all the way through.

Repeat to make three more sandwiches. Enjoy warm or at room temperature. If saving sandwiches for later, I recommend changing the arrangement of the filling to use the spinach leaves as a barrier between the bread and the other ingredients, which prevents the bread from getting soggy.
Notes
When preparing the tandoori spice rub recipe linked above, I substitute half of the paprika with smoked paprika to give my recipes a smoky flavor even though they are not cooked in the tandoor (clay oven).
If not cooking the sandwich in a panini press, or if sensitive to raw onion, soak the sliced red onion in a bowl of COLD water for a few minutes before using. This step will reduce the pungency of the onion.
Nutrition facts exclude the hummus (hummus recipe includes its own nutrition facts).
Nutrition
Serving:
1
sandwich
|
Calories:
233
kcal
|
Carbohydrates:
41
g
|
Protein:
12
g
|
Fat:
3
g
|
Saturated Fat:
2
g
|
Monounsaturated Fat:
1
g
|
Sodium:
234
mg
|
Potassium:
1041
mg
|
Fiber:
12
g
|
Sugar:
6
g
|
Vitamin A:
11300
IU
|
Vitamin C:
253.3
mg
|
Calcium:
120
mg
|
Iron:
5.2
mg