Tomato season is here in Maryland! I am so in love with sweet summer tomatoes. I haven't had much time to cook during the week lately, so right now we are focusing on making huge batches of things that reheat well. Curry is one of those things, and a great way to use up the huge bags of tomatoes we are getting in the CSA. This chickpea vindaloo recipe is something that I started making in college, long before going the vegan route.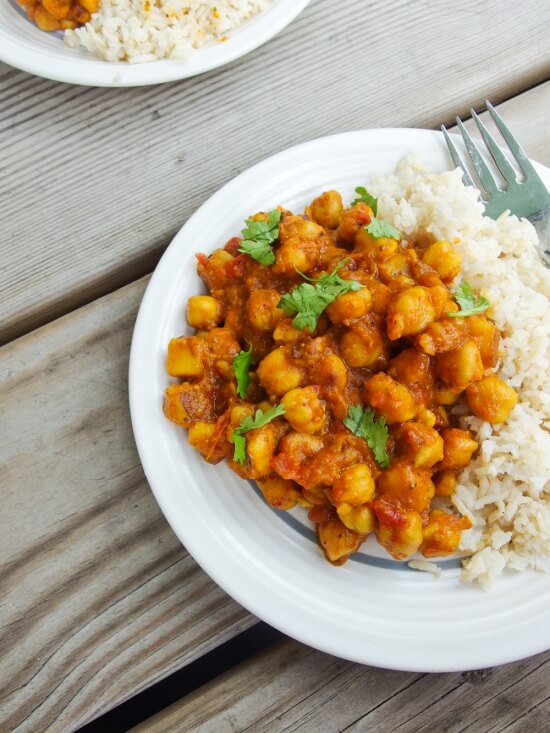 Over the past few months I have had the pleasure of cooking lots of recipes by Vegan Richa, and I learned from Richa that freshly toasted & ground spices are so worth taking the extra time for. I used to make this vindaloo with ground everything and the flavor just pops so much more with a fresh curry paste. Buying whole spices can be a bit of an up-front cost, but they last a lot longer on the shelf than their ground counterparts. If you don't have all of these whole spices in stock then feel free to mix and match whole vs. ground, as it will still taste really good.
I will make my standard disclosure here that I am making no claims of authenticity with this recipe. I have done my best to research what is classically included in this spice blend. I think this tastes pretty close to what they have at my favorite Indian restaurant, though. From what I understand, vindaloo was actually inspired by a Portuguese dish in the beginning, and the most important part is that it's very spicy and tangy. In particular, it seems to be up for debate whether potatoes should be used. That was an easy choice for me this time because we had potatoes that needed using.
Also, instead of lemon juice or red wine vinegar, palm vinegar is the recommended form of acid. That's something I don't keep on hand so I chose to use lemon juice and I was satisfied with the result. I even found versions that don't have any tomato or cardamom, so I guess everyone has their own take on vindaloo. No matter – this will make your kitchen smell fragrant and delicious. I kind of want to inhale the curry paste. =]
Speaking of the CSA, in addition to the roma tomatoes and potatoes used in the chickpea vindaloo, here's what else we've been getting the past couple weeks:
Tomatillos
A gigantic watermelon (!!)
Cherry tomatoes
Bell peppers
Yellow squash
Eggplant
Cabbage
Carrots
Fennel
Swiss chard
As you see, it's been a really nice break from the usual onslaught of leafy greens. I've kind of been missing them! But I'll take fresh tomatoes over kale any day. 🙂
Chickpea Vindaloo (Spicy Chickpea Curry)
An easy, flavorful gluten-free & vegan chickpea vindaloo - chickpeas in spicy and tangy tomato curry. Make your own vegan vindaloo at home using flavorful fresh curry paste. Note that you need to soak your chickpeas in advance.
Ingredients
For the chickpeas vindaloo:
2

cups

dried chickpeas

1

tsp

coconut oil

1

yellow or white onion

diced

5

cups

water

1 and 1/2

cups

diced potatoes

(about 2 medium potatoes)

1

cup

diced tomato

(about 2 medium-small tomatoes)

vindaloo curry paste

(recipe below)
For the vindaloo curry paste:
1/2

tsp

coconut oil

1

tsp

cardamom pods

scant

1

tbsp

coriander seeds

1

tsp

black peppercorns

1

tbsp

mustard seeds

2

tsp

cumin seeds

2

tsp

fenugreek seeds

5

cloves

2

bay leaves

1

tsp

ground cinnamon

1

tsp

ground turmeric

1 and 1/2

tbsp

paprika

1

tsp

coconut sugar

(or regular sugar)

4

red chilis

seeds removed (or not, if you dare), chopped

4

cloves

garlic

chopped

2

inches

fresh ginger

peeled and minced

2

tbsp

tomato paste

1 and 1/2

tsp

salt

1/4

cup

lemon juice

(about 1 large lemon) (or red wine vinegar)
Instructions
Prep the chickpeas:
Soak the chickpeas overnight, or for 1 hour using

this quick soak method

. Cover with plenty of water as they will nearly double in size.

In a large saucepan, warm the coconut oil. Add the onion and a pinch of salt, and stir. Cook for 3-5 minutes, until the onion is softened. Add the potato and stir.

Drain and rinse the chickpeas and add them to the pot along with the potatoes and 5 cups of water. Bring to a boil and then reduce to medium heat. Partially cover the pot. Continue to stir occasionally, and cook until the chickpeas are tender, about 40 minutes.
Prepare the vindaloo curry paste:
Meanwhile, in a skillet over medium heat, melt the coconut oil. When it begins to shimmer, add the cardamom pods, coriander seeds, peppercorns, mustard seeds, cumin seeds, fenugreek seeds, cloves, and bay leaves. Stir the spices continuously until they become fragrant and start to turn golden, 1-2 minutes. Remove from the heat and pan immediately.

Add the spice mixture to a blender along with the rest of the curry paste ingredients. Puree until a smooth paste is formed.
Finish the chickpea vindaloo:
Once the chickpeas are cooked through, stir the curry paste and diced tomato into the pot. Continue cooking at medium heat, partially covered, and stirring occasionally. Add 1/2 cup more water if it starts to dry out. Cook until the tomatoes have broken down, 20-30 more minutes.

Add more salt to taste, and cayenne pepper if you want it spicier. Serve topped with fresh cilantro, over rice (pictured is brown basmati rice) or with other accompaniments of choice.
Nutrition
Serving:
1
fifth recipe
|
Calories:
365
kcal
|
Carbohydrates:
84
g
|
Protein:
18
g
|
Fat:
7
g
|
Saturated Fat:
1
g
|
Monounsaturated Fat:
1
g
|
Sodium:
521
mg
|
Potassium:
357
mg
|
Fiber:
28
g
|
Sugar:
7
g
|
Vitamin A:
1550
IU
|
Vitamin C:
85.8
mg
|
Calcium:
150
mg
|
Iron:
5.8
mg
This chickpea vindaloo is a veganized adaptation combined from this chicken vindaloo recipe and this other vindaloo recipe.
Enjoy this curry? Try some of my other Indian-inspired recipes:
Chickpea Turmeric Stew with Sweet Potato and Coconut Bacon
Mango Curry Hummus and Tandoori Roasted Red Pepper Sandwiches